Over the years I have watched a lot of cartoons to analyze style, scene settings, color usage, age appropriateness, etc. In that industry I have watched new styles appear like "retro" styled cartoons. Examples of these would be "Danny Phantom" and "Fairly Odd Parents" on Cartoon Network. There have emerged art books that promote these styles of drawing also. This style, as much as I personally may like, is already fading in popularity.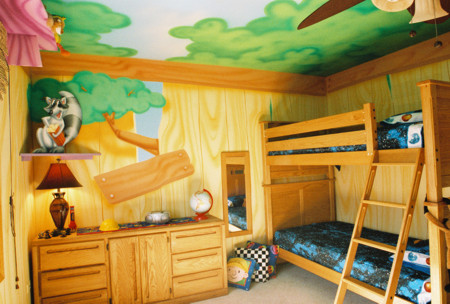 In the home design industry there is a school of thought that creates four stages of decorating. 
Nursery - typically from the ages of birth through about 18 months.
Toddler - ranges from about 18 months to about 5 years. 
Elementary ages of 5 years to preteen.
Teens - ages 11/12 to  18 years old.
In each of these stages the time frame lasts only a few years before you are marketed to change your child's room theme. In my opinion, caution is the name of the game even though the amount of time for a theme is only a few years.
When considering decorating for your child at home I think you can engage in a trend without going in over your head. Committing on a theme like a popular character from TV or the movies is really committing to something that I believe is too specific.
Your child might love Spongebob when he or she is 6, but will he or she still love Spongebob when they are 10. That's just 4 years of Spongebob, on the other hand, that's a long time for one character. Either you decorate minimally, knowing that you will be changing it in a reasonably short period of time. Or, you decorate to the max committing to many years of a yellow, square shape!
Just a note: By creating a neutral theme like this "Clubhouse/Treehouse" you can still engage in trends by using posters, stickers, stuffed critters, etc. and when that interest fades simply remove these items for the newest interest!
I believe that you can decorate in a trend closely enough but still stay back far enough that you don't get burned. With the idea of Spongebob I think you can get a good effect of creating a underwater theme either by creating a style that is similar to the cartoon or by creating your own style.
Come up with your child's own "Bikini Bottom" town name. Create his or her own pineapple to live in or something similar that is unique. Grab a few things that are Spongebob specific that can be removed when your child moves past the character. You can easily change the underwater theme by taking out yellow, square objects and replacing them with something else like surfers, sharks, fish, shells etc.
I believe a balance can be reached when decorating with trends in mind. To really see what is popular at any given time, just start asking kids in the age group you are decorating for or watch kid channels on TV. Look for age appropriate shows and watch a few. You will soon see a trend beginning to emerge. Other great resources are magazines, websites, toys, movies, etc that are directed at kids.