For this topic I am simply going to list a variety of popular options that will be both inexpensive and expensive. Maybe something will spark a thought in you and your situation.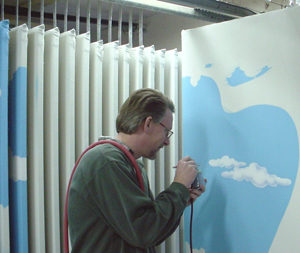 Cutouts made from plywood with a stand that will be able to fold up or disassemble for storage. Popular wood choices are MDF (Medium Density Fiberboard), BC quality plywood, or typical plywood. This option is a very cost effective choice and creates a durable option for you. There are some limitations to this choice and your design can in the end be heavy and a challenge to handle.
Vinyl banners printed from Creative For Kids or a sign company that can be hung in a variety of ways. Usually from the ceiling, or from stands. Great for storing because they take up so little space. This is one of my favorite options. Vinyl is durable light weight and easy to handle.
Static cling material that is designed to stick on smooth surfaces. This is also printed from Creative For Kids or a sign company. I think the main limitation to this is where you can use it. It has to be applied to smooth surfaces.
Custom fabricated frames from an awning company wrapped with canvas for painting or a printed graphic. I designed this and painted 30 of these that were approx. 8' x 6'. These were expensive but were light weight, extremely durable, portable, and rigid. The application was to cover lockers down a hallway in a high school. The church rented the space on weekends.
Foam material. Foam has great flexibility of use. You can purchase it in 4'x4'x8' blocks or in sheets from your local home improvement center. It can be sculpted, cut, melted, glued, etc. The biggest drawback is that it is extremely brittle in its natural state. Foam can be coated with a variety of coatings that will make it slightly durable to extremely durable depending on the coating.
There are many more options that are available. Often, challenges are very unique to each church and require a custom approach. I trust that some of these options listed here will get you started in the right direction.