Let's have some fun here! I'll begin by sharing how I begin the conceptual design process. First, consider the following:
What are your kids like?
What type of church do you minister in?
Are you an inner city, middle class, multi-cultural, or affluent church?
This last question shouldn't take much thought. The answer to this one can narrow down your theme possibilities. Some themes simply will not work for your kids. For example, inner city kids are probably not going to be very interested in a cowboy theme but for a rural church it may be perfect.
Next, do you have a specific theme in mind or an obvious direction to go? Just a note, there are really no totally new, original themes, or at least very, very few themes. There can be many variations of a theme like a "town/city" theme or "under sea" theme. If you don't have an obvious theme then the sky is the limit! You can do whatever!
I suggest that you start by taking a look at our mural gallery. I specifically created that gallery so that you could look at these designs and be inspired. Next, "Google" a theme that interests you and see what comes up. Have paper and pencil in hand, start a file on your computer to store websites, pictures or links you find interesting.
Begin to write down your thoughts on what you discover. Is there a flow, or direction that you see developing? What do you get excited about as you go over your materials? These are all good signs for a direction to take your designs. Keep in mind not to over think this. At times you might be in a little bit of a quandary about a direction, but, get quiet before God and ask for some clarity. It will become clearer!
Personal note: As you can tell, I believe God is pivotal in determining your theme. He is a crucial part of the process from the beginning. He knows your kids, your church and you. He knows exactly what you need to reach your community through theme design. Tap into Him! He will show up and help you in this process and He might even bring His tool belt!
I hope the process we covered has sparked some creative thoughts and ideas in you. You may have a couple of themes that you think would work equally. Take some of your ideas to some close trusted individuals that you believe would give you some helpful feedback for what you have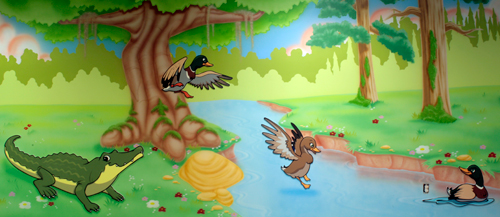 come up with so far.
Write down their comments. Thank them and go find a quiet place to get before God.
Finally, it's time to "make it happen"!
Simply and with confidence, make your decision about the theme you will use to reach your community!
Now you are well on the way; it's down to just designing your theme. Well, o.k., there is another important step before you get too far into the design process. Come up with a name for your children's ministry that matches your theme! This is a good one to pray about also. It also is a fun thing to brainstorm on with some trusted and creative colleagues.